---
Services
Ongoing Projects
Interior Design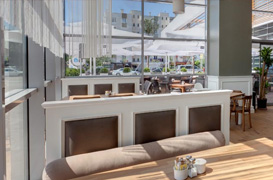 TACA provides Interior Design services in turnkey projects under the following 3 functions;
PROJECT CONSTRUCTION
Turnkey design, manufacture and installation of all finish works, furniture and interior decoration, including lighting, flooring, glazing, signage, specialty items and trim details.

INTERIOR DESIGN
Concept, design development, material selection, detailed construction documents.
PROJECT MANAGEMENT
Job supervision, schedule and budget management.<
Each phase of a project is meticulously designed and detailed, competitively priced and budgeted to achieve for the client the highest quality of manufacture and assembly with skilled craftsmanship using precision technology and installation methods to provide turn-key services on schedule and on budget.

TACA's group of solution partners and manufacturing plants provide competent resolutions for specialty interiors and such as theaters, concert halls and cinemas that require state of the art stage, lighting and acoustical mechanics.